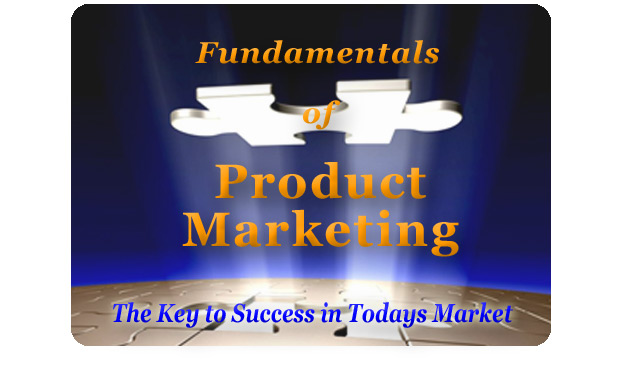 Presented in cooperation with SEMI. Classes are held in San Jose, California.
Course overview
Steering your company's products successfully through the complex and constantly changing semiconductor equipment and materials marketplace takes technical expertise, business savvy and a thorough understanding of the product marketing process. Fundamentals of Product Marketing teaches just that - it provides specific product marketing skills that are directly applicable to the semiconductor equipment and materials professional.
What you will learn
Develop your role for optimum effectiveness
Successfully launch a product
Develop a strategic marketing plan
Gather research based upon your product's life cycle
Implement the process for successful product development
Develop realistic forecasts
Position your products to meet your market strategies
Who should participate
Fundamentals of Product marketing was developed for semiconductor equipment and materials companies of all sizes and employees at all levels. Regardless of your level of experience, this seminar can strengthen your marketing skills. Also, because product marketing has such an important role in a company, this course is recommended for industry professionals in sales, product management, engineering, finance, and executive management. Fundamentals of Product Marketing encourages and reinforces the need for strong and supportive relationships between marketing and other departments.
Special Feature: The Experts Panel
Over the three days of the course, questions arise on specific marketing issues that the students have encountered. The Expert's Panel is an open forum held on the last day of the course and dedicated to answering those questions. Students gather collaborative information from industry experts on "real life" marketing challenges.
Course outline
The Product Marketing Environment
Industry overview
Market size and demographics
Market characteristics and culture
Product Marketing Responsibilities and Interfaces
Charter
Action groups
Industry specific responsibilities
Market Research And Analysis
Product life-cycle plan
Strategies using the life-cycle
Sources of data
Customers/competitors
Product Development
Defining needs and objectives
Reliability
Dealing with growing/stable/declining markets
Promotion
Enhancements
International Marketing
Conditions to consider
Regional profiles explored
Introduction To Strategic Marketing
Overcoming difficulties
Elements of strategic marketing plan
Life-cycle adjustments
How to get buy-in
Product Introduction And Promotion
Pricing
Promotion plan
The roll-out
Messages that sell
Positioning
Defining you company and products
Using competitors, customers, others
Different strategies for new and existing products
Developing a realistic plan
Proposals
Selling document
Manufacturing's commitment
Specials
Acceptance criteria
Legal Aspects of Product Marketing
Relevant laws
Pricing
Terms and conditions
Anti-trust
Liability
Forecasting
Techniques
Critical factors
Team forecasts
Working with reps
Interpersonal Competence and Communication
Working with and through others
Trust
Communication
Personal Action Planning
Reinforcing your thinking
Overcoming procrastination
Psychological commitment and goals
The Expert's Panel
Free Forum
Your questions answered
Fundamentals of Product Marketing
was awarded the
Certificate of Achievement
in Education
by the
American Society of Association Executives
The American Society of Association Executives awarded Quest Team it's prestigious National award, the Certificate of Achievement in Education, in the category, "Best United States program delivered through a large industry association."
Course materials
Fundamentals of Product Marketing seminars are held from 8:00 am to 5:30 pm the first and second days, and from 8:00 am to 3:30 pm on the third day.
Registration includes continental breakfast and lunch all three days. Casual business attire is appropriate.
Materials include: extensive course manual and product development management software.
Other Instructors

John Dunn
VP, Semiconductor Business Dev
Festo-USA

G. Burt Lancaster
Managing Principal
Lancaster Resolve Technology

Rick LaFrance
Former President
Olympus Integrated Technologies America

Gianni Leonarduzzi, Ph.D.
Area Manager
Gelest, Inc.

Amy Leong
Vice President, Marketing
MicroProbe

Aldo Orsi
Senior Account & Marketing Executive
AZ Electronic Materials USA Corporation

May Su
Vice President Strategic Marketing
Brooks Automation
Cities and Dates Offered