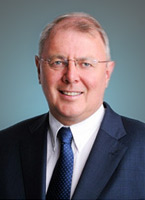 Ken Gavin is a consultant with The Quest Team and principal of Ken Gavin Consulting, based in Ireland. He recently left Intel after 17 years in senior procurement and program management positions in both Ireland and the United States.
Ken's contributions at Intel included:
Management of the Chemical & Gases procurement group based in Santa Clara, California, with an annual budget of $500 million.
200mm Wafer Fab Cost Strategy Program Manager with an annual budget of $400m.
Developed, owned and presented Intel's multi-billion dollar Strategic Sourcing Plan for equipment that sets out the corporation's procurement strategy for the next 5 years. Over 200 Intel procurement professionals are currently executing this plan.
Contributed to various strategic sourcing plans in both the indirect and direct materials areas, including outsourcing strategy.
Led various teams including a High Risk Strategic Supply Chain group to June 2009. Led the Global Fab Materials Division's task force team on Supplier Financial Health Risk.
As recently as June 2009 Ken was Intel's senior commercial point of contact on REACH, the European Union legislation on chemicals for all suppliers and for the various EU regulatory authorities both in Ireland and Europe.
During his tenure at Intel, Ken worked extensively with Intel senior management across many divisions representing the Global Fab Materials procurement group. Hea is a recipient of Intel's highest honour for an employee, the Intel Achievement Award.
Prior to joining Intel, Ken was procurement manager for Philips Ireland Ltd., Clondalkin Group, Rorer Ireland Ltd.