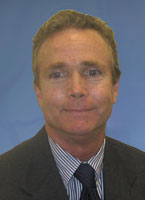 Mr. Lonsdale was recently appointed Vice President of Sales and Marketing for AES Motomation. Previously, he held positions as Regional Manager for GE Advanced Ceramics and Business Manager for the Vertical Probe card business of Kulicke and Soffa.
Earlier in his career he spent seventeen years with Raychem Corporation where he served as director of sales and marketing for the Chemelex Division, Sales manager for Canada, Asia, and Latin America, and Director of Product Management. His experience in the semiconductor market includes selling packaging services for ASAT Corporation, serving as director of marketing for Dryden Engineering, Director of Sales and Marketing for Dryden Engineering, and Sales Director for SensArray Corporation.
Joe has extensive teaching and coaching experience. In addition to his Sales and Marketing duties at Raychem he managed the training department. He taught Thermodynamics and Unit Operations at Northeastern University. He taught finance for the MBA program at Golden Gate University for eight years. His scholastic chess teams have won fifteen State championships and three National Championships.
Joe received his BS in Chemical Engineering from Northeastern University, his MS in Chemical Engineering from Purdue University, and an MBA from Harvard Business School.