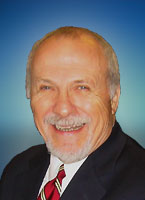 Charles, a member of The Quest Team and Principal of Action Pro Tem, is an international business consultant serving both the semiconductor and PCB equipment and materials industries. For over nearly 20 years he has been presenting workshops and seminars on high-tech marketing and sales. Further, he assists technology businesses establish successful distribution arrangements and resolve other marketing, sales and management related problems, domestically and internationally.
With more than 30 years experience in high technology, Charles has been Vice President of Sales and Service and Vice President of Product Marketing for Applied Materials, Vice President of Marketing and Sales for Tylan Corporation and General Manager of Gyrex Corporation. Most recently he was Vice President of Sales for High Yield Technology.
He has founded and/or participated in several start-up companies including Auto/Recognition Systems of which he was President and CEO. He has experience on both the materials and equipment sides of marketing to the semiconductor industry. He is a former member of the boards of directors of several high technology companies. He was the founding chairman of the Sales/Marketing Executive Council for SEMI (SMECS) and received the WALTER C. BENZING AWARD for his involvement in the creation and presentation of SEMI's "Fundamentals of Product Marketing" course. Along with two other Quest Team members, he was co-creator of three other SEMI co-sponsored sales training programs.
A former Air Force intelligence officer, he holds degrees in business and chemical engineering from Ohio Wesleyan and Ohio State Universities. He is a former member of the Institution of Managerial Consultants (IMC) and the National Association of Science Writers (NASW).